About Parts Per Million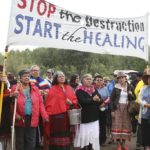 Voices in the Face of Change
Parts Per Million magazine is an online creative forum to explore 350Brooklyn's mission: to counter the climate crisis through local action and to work toward a world that is just, equitable, and sustainable where all beings can thrive. This publication is run by members of 350Brooklyn, an environmental nonprofit energized by Brooklynites working in their communities for climate action.
A Project from the 350Brooklyn Community
As one of more than 200 international affiliates of 350.org, we work locally in and around Brooklyn and NYC to address the climate crisis through education, legislation and direct action. 350Brooklyn was founded in the winter of 2015 by a small group of people who had worked on the 2014 People's Climate March. Since then we have grown into a vital organization with a steering committee, workgroups, several campaigns, and a mailing list of more than 3,500 subscribers.